Brooklyn & Salted Caramel
Session January 6th 2016
Brooklyn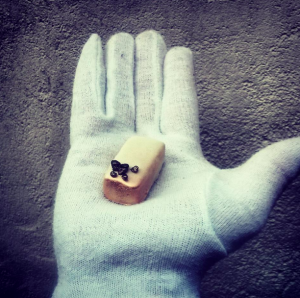 ---
Ted and Viv were talking about the Brooklyn music clubs, over the past five years or so, a constellation of musician-run jazz series and performance spaces has cropped up throughout Kings County, in far-flung neighborhoods like Ditmas Park, Gowanus, Prospect Heights, and South Slope. You'll see stuff in these spaces that you aren't likely to find across the East River, in Manhattan clubs like the Village Vanguard and the Blue Note.
Here a couple of places to check out:
---
Salted Chocolate Bourbon Caramel
Sugar 360
Cream 500
salt 12,5
chocolate 37,5
butter 150
Bourbon 40
Heat up a pan with a high edge.
Pour in about 40 gram of sugar and let it melt.
Continue pouring in 40 grams of sugar and let it melt.
Simultaneously heat up the cream until just below boiling point.
Slowly and very carefully pour the hot cream on the caramel and stir until homogene.
Stir in the butter (at room temperature) until homogene.
Mix in the salt and bourbon.
Works brilliantly with a dark beer like the Brooklyn Brewery Cuvee Noire; add 80 grams instead of 40 bourbon —> http://brooklynbrewery.com/brooklyn-beers/bqe/cuvee-noire
---
Glutenfree Brownie
Butter 125
Sugar 320
Cocoa Powder 90
eggs 300 (6 eggs)
Mix the butter and sugar by hand..or if that's to much trouble -your damn right- put it in a mixer.
Break the eggs and toss the inside one by one in the butter-sugar-mixer situation.
Turn you mixer of and toss about 30 gram of the cocoa powder in the situation.
Slowly let it stir in.
Do the same with another 30 grams, do the same with another 30 grams
Does it look like a homogene goo?
Are you sure that it looks about the same on the bottom, or is it possible that there's a bunch of sugar-butter on the bottom that isn't mixed properly?
Make sure and get it there with a spatula or yo hands.
Since your already drinking bourbon or Brooklyn Brewery Cuvee Noire – while baking this brownie, it would only make sense and be very respectful to your brownie to share (sharing is caring) your drink. go ahead and pour about a shot (or two) in the mix!
Bake the shit out of it at 325-350 F (160-175 celsius), twist and shout every 5 minutes to be sure. If your knife comes out clean it's done.
---
The two songs that were performed were "New York state of mind" from Billy Joel and Viv's new song 'You are my morning'. See you next time!!