Plotner Special' Champagne Dessert
Session January 17th 2016

Special guest, Josh Plotner
---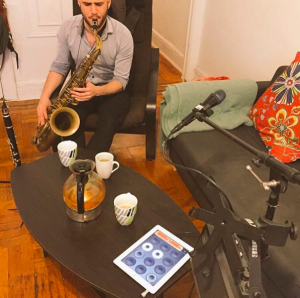 Recipe for the 'Plotner Special' Champagne Dessert
White wine mousse
235 gr white wine (viognier, grüner veltiner or Sauvignon Blanc)
35 gr soaked gelatine leaves
288 gr cream
32 gr sugar
Whip the cream and the sugar until it has soft peaks. Not to far, because you might whip it to butter or grainy whipped cream when you mix it with the wine.
Heat the wine a little bit up in a pan. Strain out the water from the gelatine with your hands. Throw the gelatine in the wine and stir until dissolved. The wine needs to be at a nice warmth so that the gelatine can dissolve but the alcohol stays in the wine. If you want to be a nerd about it, I would say about 52 degrees celsius.
Now slowly pour the wine in the whipped while mixing it together. Pour the homogene stuff in mold which you can easily take it out of. I like to use rubber molds. Put it in the freezer overnight on a straight cuttingboard of something like that.
Before consuming, take it out of the mold, place it in the actual plate and let it temper for like half an hour.
---
White chocolate ganache
White chocolate
Cream
Glucose
50 gr butter (room temperature)
Heat up the cream and glucose in a pan until it starts to boil. Turn of the flame. Please. Literally throw in the white chocolate and stir until dissolved. Now throw in the butter in small pieces and stir until dissolved. This might take a while so you can do something else as long as you stir once every 2-3 minutes.
I love to eat that shit warm like straight out of the pan, but you can also let it cool down to room temperature.
---
Decoration
Now assemble your dish with the tempered bavarois already on the plate. Slice white grapes really super thin and place the slices in a nice way on the bavarois. Make it nice please!
Throw the ganache on the plate like you're Picasso. Go crazy. Clean up after going crazy. Then sprinkle a lotta pop rocks over the entire plate. It needs to whizz on the plate and your mouth so don't be shy on the pop rocks. Enjoy!